Eric Boissonnas, what is your core business?
Banknotes! We provide all the equipment, solutions and services needed for its production: from the computer system used to design banknotes and the innovative security features to the robot that helps to handle the bundles of banknotes and the printing machines.
What is the position of banknotes, particularly in relation to bank cards, digital banking, virtual currencies and crypto-currencies?
In industrialised countries, especially in Switzerland, we pay with cash or credit cards and we all have a bank account. Banknotes are used for payment transactions, but mainly for personal reserves and budget management. In general, banknotes are considered as old-fashioned, but people use it every day. In contrast, people in other parts of the world such as South America, Africa or Asia have a different way of life. They have no stable income, no bank account and cannot afford a credit card. In these countries, banknotes are the only means of payment.
Are digital means of payment and banknotes in competition nowadays?
No! They are complementary means of payment, but one does not replace the other; they coexist. This offers citizens a real choice according to their needs and desires. Today, Central Banks are looking for ways to keep control of both worlds and promote their cohabitation.
What are the advantages of both systems?
Each system has its advantages and flexibility. This is why banknotes and digital means of payment have their reason to exist in parallel. For the Swiss, banknotes are very simple to use. It is always available and is useful when the digital systems are not working.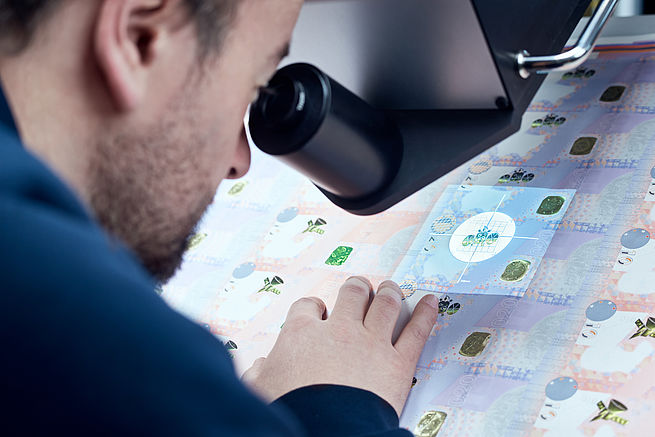 Is it true that the banknote leaves no trace and allows economic and financial inclusion?
It allows economic and financial inclusion. In a sense, banknotes have the advantage of leaving no trace. However, in the black market, it represents a very small part of the means of payment used. The largest frauds are indeed carried out within the digital systems such as Bitcoins.
How are banknotes made in Switzerland?
Swiss banknotes are printed on cotton and polymer paper which already includes security features. They are printed on sheets measuring approximately 80x70 cm, on which between 45 and 60 banknotes are placed, depending on the size of the banknote.
Each sheet passes through different machines which print specific elements of the banknote, such as simultaneous colour on both sides, security features such as the glittering globe or the perforated Swiss cross, colour application as well as relief printing, serial numbering, varnishing to protect the surface of the banknote and cutting of the sheets. Our equipment also provides quality control at every stage of the production.
The Covid-19 pandemic has encouraged consumers to use digital means of payment. Do you think it could put the existence of the banknote at risk?
We have to wait a few years before being able to give an opinion. However, I would say that the pandemic has rather brought banknotes back to the forefront, as we are witnessing a clear increase in demand. The crisis has raised countless debates about the transmission of the virus through banknotes. Although I think it was a false debate based on false information, the discussion has brought banknotes into the limelight. Even Central Banks, which saw banknotes as a safe bet, realised that digital means of payment are gaining power.
How do you position yourself with regard to the future of banknotes?
Today, printing works around the world are printing banknotes at the limits of their capacity. This year, the volume is higher than last year. The majority of people use banknotes and depend on them. So you can be confident about the future of banknotes: for the next ten years you will have cash. However, banknotes must evolve! We have to reduce circulation costs, which are very high, and the environmental footprint. The future will tell us whether banknotes will become intelligent or whether its functions will be diversified. There are ideas about this, but there are various stake.