SONECT is reinventing the way people access cash by empowering any merchant (retail, restaurants, etc.) to become a cash access point. The SONECT App provides an innovative and sustainable solution for consumers to find and access cash nearby using a smartphone interface while reducing cost of cash handling and increasing foot traffic for the merchant by recirculating cash directly from the Point of Sale. SONECT is not only filling the cash access gap created by commercial banks as they downsize their branch and ATM networks but they are also providing a more sustainable and equitable cash management platform connecting consumers who want to withdraw cash, in real time, with merchants who wish to deposit cash. SONECT is already operating the largest independent Virtual ATM™ network in Switzerland and all major Swiss banks offer the service to their customers. The platform is also expanding internationally in Europe and in Latin America.
Koenig and Bauer Banknote Solutions is enabling cash industry innovators to reinvent the way we move, access and manage cash in society. Data will play a big role in the evolution and transformation of cash cycles and Koenig & Bauer has developed a family of bridging technologies connecting the physical banknote with digital ecosystems to create this data. Koenig & Bauer has teamed up with SONECT to provide their mobile banknote validation App, called ValiCash®, to reinforce the customer user experience. This development will add an additional layer of functionality to the SONECT cash access app by enabling SONECT agents and customers to quickly authenticate their banknotes at the Point Of Sale. Simply take a photo of the banknote and the App analyses print characteristics to determine banknote authenticity, immediately telling you if the banknote is genuine.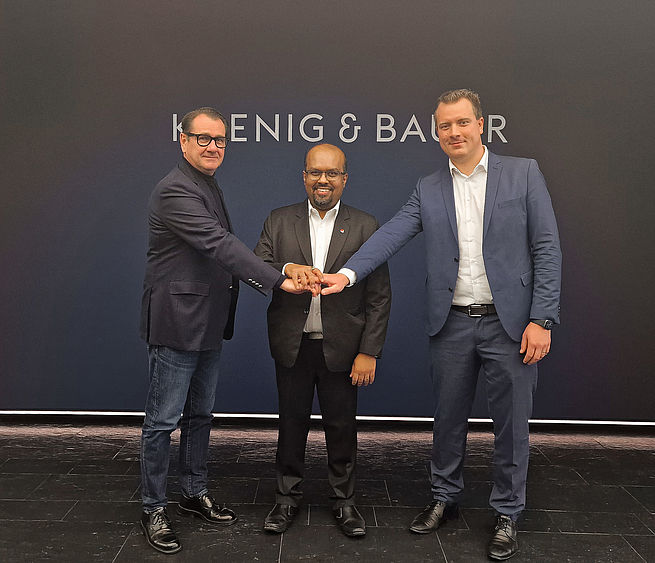 Sandipan Chakraborty, SONECT CEO & founder comments on the agreement as follows ;'Thanks to ValiCash and the partnership with König & Bauer, we will soon be offering our customers and merchants the option of authenticating cash. This will further strengthen trust in our solution and, above all, in cash payments in the future.
Julian Schubert, Head of Data, Vision, and Authentication Solutions at Koenig & Bauer Banknote Solutions commented on the partnership by saying; 'This first step of working together is built upon our two organisations sharing the same vision. Providing inclusive access-to-cash platforms is a fundamental requirement for society. At a time when many financial intermediaries are downsizing cash infrastructures, rendering access to cash more challenging, SONECT is making sure everyone who wants cash can find it while at the same time providing a sustainable model for local cash recycling. Organisations like SONECT are defining the future of how society interacts with cash and we can enable them to do even more, by putting the cash user at the center of our thinking and technologies"
Trust and confidence are essential components in any cash user experience and this new partnership will provide SONECT agents and customers with a reliable and simple digital authentication tool. SONECT and Koenig & Bauer Banknote Solutions are committed to ensuring access to cash and financial inclusion for everyone. This recent partnership sets the groundwork for future collaboration and more innovation as both organisations explore and develop together ways to provide sustainable cash access platforms by connecting cash with digital data ecosystems.