World leader in high-security printing solutions, Koenig & Bauer Banknote Solutions SA responded positively to the City of Lausanne's request this summer. In order to provide an optimal solution, the company specialised in banknote printing approached SICPA, one of its strategic partners for several decades, to integrate authentication and security inks and technologies.

Hervé Guillerey, Head of Banknote Innovation and Design Services at Koenig & Bauer Banknote Solutions, explains this approach: "When the City of Lausanne approached us, it was without a doubt we were willing to contribute. Our historical roots in Lausanne are important. We are particularly proud to be able to play an active role in Lausanne's economic recovery, a city that has been part of our DNA since our creation almost 70 years ago. As our core business is linked to the world of banknote security, we were delighted to be able to share our expertise.»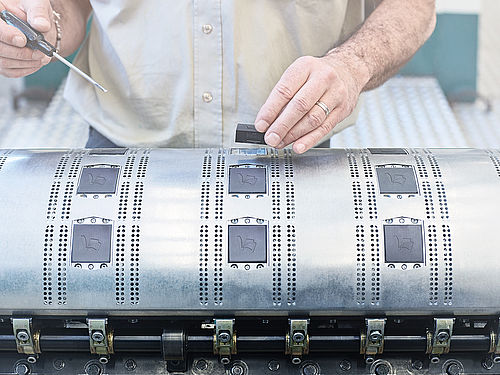 While the development of a banknote can take several years from its initial design to its final production, this project was completed in just a few weeks. The goal was to produce a paper that is safe and trustworthy. It was also decisive that merchants could easily check it, without having to use UV lamps, for example, which they would not have at their disposal.
Bound in booklets, the detachable vouchers are secure. Vouchers combine areas printed with special ink on a word, amount or identification number. Vouchers have a pictogram in the form of a small gift printed with a security ink with optical effect, called SICPASTAR®, which clearly changes colour when the voucher is tilted. View the Enjoy Lausanne voucher video
here
found on
www.enjoylausanne.ch
The first print was performed at Koenig & Bauer Banknote Solutions using a unique, patented screen printing press that allows, among other things, the printing of security elements with iridescent or magnetic inks. The Cavin printing house then printed the non-security elements, cutting and assembling the vouchers in the form of booklets.

The choice of a value paper instead of a digital alternative once again underlines the benefits of such a solution: its security, its accessibility to all and the feeling of belonging and ownership it confers.

Hervé Guillerey concludes: "We were delighted to work hand in hand with other strategic partners in the region. Experience proves that in times of crisis, it is necessary to show solidarity, reactivity and innovation in order to be able to act with the individuals, companies and institutions that need it most. »

About Koenig & Bauer Banknote Solutions
Koenig & Bauer Banknote Solutions is a world leader in high-security printing solutions. In particular, it assists its international customers in the production of secure banknotes. With almost 70 years of know-how, Koenig & Bauer Banknote Solutions develops and delivers innovative solutions worldwide. Its expertise enables it to master the entire chain, from design to production.
Founded in Lausanne in 1952, Koenig & Bauer Banknote Solutions employs some 700 people worldwide, spread over Switzerland, Austria and Germany, the United States, China, Hong Kong, India and Mexico.

For more information, please visit
https://banknote-solutions.koenig-bauer.com/en/
About Koenig & Bauer
Koenig & Bauer is the world's oldest printing press manufacturer with the industry's broadest product range. For more than 200 years, the company has been supporting printers with innovative technology, customized processes and a wide range of services. Its specialties range from the printing of banknotes, cardboard, film, metal and glass packaging to the printing of books, displays, codes, magazines, advertisements and newspapers.

Koenig & Bauer has state-of-the-art know-how in a wide variety of printing processes and is the market leader in many of them. In fiscal year 2018, the company, which has 5,700 employees, achieved annual sales of more than 1.2 billion euros.

For more information, please visit
https://koenig-bauer.com/en/index/