Currency News was able to discuss with CEO Eric Boissonnas and Head of Sales Thomas Hendle before and after the pandemic. Read below the full interview for the insights in the KBA-NotaSys views regarding its competitive edge, future outlook on innovation for banknotes, as well as the impact of other key trends such as production.
| | |
| --- | --- |
| CEO, Eric Boissonnas | Head of Sales, Thomas Hendle |
A mere few months ago, KBA-NotaSys was gearing up for Banknote Horizons, its major customer event held every four years to coincide with the DRUPA printing fair and where it sets the scene for future banknote production by showcasing its latest developments in production technology and features. Banknote Horizons was due to take place this month, and the company was also due to roll out its new name (Koenig & Bauer Banknote Solutions) and corporate identity.
But that was BC (before COVID-19). Since then, the company has parked those plans and shifted instead to creating new working practices and solutions to deal with the fall-out from the coronavirus and keep the business and its customers going during the lockdown.

First of all, whilst most people are very familiar with KBA-NotaSys, could you give a brief background?
EB: The company was founded in 1952 by Gualtiero Giori. And sold its first banknote printing press that year. In 1965 a joint venture was established with De La Rue which lasted until 2001, when the company was sold to our manufacturing partner Koenig & Bauer (or KBA as it was then). We changed the company name from KBA Giori to KBA-NotaSys in 2011 and, later this year, will change again to Koenig & Bauer Banknote Solutions. Different names but the same company DNA throughout.
We now employ 140 people in Switzerland in R&D, design, sales and client service. We have a team at Würzburg, one of Koenig & Bauer's facilities in Germany working exclusively on banknote systems, and another team in Mödling in Austria which manufactures, assembles and services the presses. We also have regional hubs in Asia, North and South America that bring us closer to our customers and provide ongoing customer support, servicing and maintenance.
Sales last year were in the region of €464 million. Koenig & Bauer itself is historically the oldest manufacturer of printing presses in the world. And with nearly 5,700 employees and a turnover of €1.2 billion, it is also one of the largest, with three business segments – Sheetfed, Digital & Web, and Special. We sit in the latter segment.

What is behind the new name?
EB: The renaming of KBA-NotaSys to Koenig & Bauer Banknote Solutions reflects the operational and structural situation that has existed for many years and ensures consistency across the entire Koenig & Bauer Group. It's all about fully integrating the Koenig & Bauer brand, both in the complementarity of the technical solutions we offer and in our visual identity.
In this way, we want to ensure the strengthening of our brand and offer our unique know-how under a single global name. But it doesn't' actually change anything in terms of what we do. Whether KBANotaSys or Koenig & Bauer Banknote Solutions, we will continue, as we have always done, to bring specific solutions that can grow and adapt to the ever-changing demands placed upon central banks and printers in this new era of payment instrument choice.

For many years KBA-NotaSys was the clear market leader in the manufacture and supply of banknote printing machinery but you are now facing stiff competition, from Japan but also China. It is generally said that competition is essential for a healthy market and is good for the customer: do you agree?
TH: Of course competition is good. Even necessary to drive investment and innovation and to gain the competitive edge. We believe very strongly in this. Which is why we spend around 10% of turnover on R&D and product development.

What do you feel gives you that competitive edge?
TH: Our expertise, reputation, track record, international presence and the ability to offer solutions for every part of the banknote production cycle. And it's not just Komori that we compete with. In reality there are several companies that offer solutions for different parts of the production cycle. But no company other than ourselves can offer all of them.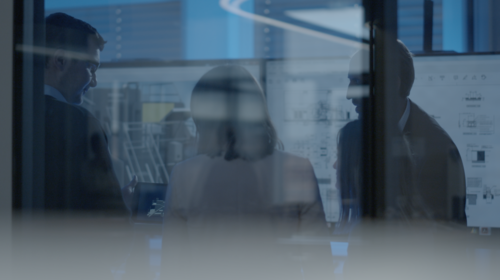 Our solutions cover everything – in terms of equipment this spans design and origination, pre-press, production through to finishing. Each unit is modular, which makes them infinitely flexible and scalable, giving customers the opportunity to buy one piece of equipment or an entire line, and anything in-between. Supporting this we also offer a number of services. In addition to maintenance and servicing of the equipment, our services include banknote design, consultancy, platemaking, training, counterfeit and adversarial analysis. This part of our business now accounts for 25% of revenues, and is growing all the time.
We also develop security features that are based on the capabilities of our equipment. It is a perfect loop and no-one else can do that. And even in this increasingly competitive environment, 80% of the world's banknotes are still produced on our equipment.
With the exception of an intaglio web press that you developed for tax stamps and passports, you have always specialised in sheet-fed presses. With paper being manufactured in reels, wouldn't it be better for banknotes to be printed off the reel rather in sheet-form?
TH:
Web fed production for banknotes is uneconomical. For example, if there are faults or errors on part of the sheet, it is very difficult to extract the unfit notes. The set-up is far more complicated and takes more time. The drying time is much longer, the footprint is large and web presses also need more power. The fact that there is only one banknote printer in the world still using web-fed presses for banknote production – Algeria – says it all.
Do you think there is a role for digital print in currency?TH:
The short answer is no. The issues of security apart, the inks used in digital printing have a high viscosity which makes them unsuitable for banknotes. Arguably, inkjet could be used for numbering, but letterpress is hugely reliable and it is doubtful that digital could replicate that. For offset, meanwhile, the difference between the fine lines of offset and the structures of inkjet are what makes the former so secure. The same details, precision and effects cannot be achieved by digital presses. Added to that, digital printing is simply not economical for high volumes. There is the potential, however, for some digitally-generated security features – albeit that those currently out there haven't been particularly successful. But where it could bring value is for variable features, such as the correlated signature.
To what extent do you see the role of the print operators being replaced by robotics and AI?TH:
Artificial intelligence and robotics do have a role to play but nothing, in our view, beats skilled printers – not just in their experience and knowledge, but in their intuition, which is a human and not a machine attribute.
You have two joint ventures – Lensys and coverno. Can you describe why they were set up?EB
: We are very open to partnerships and joint ventures as they bring in outside expertise and are a great way to accelerate the development process.
Lensys is a joint venture with Lumenco to develop and produce the SUSI Optics® feature, which is designed for windows in polymer notes. It combines our precise multi-colour offset elements produced on the Super Simultan press with Lumenco's patented micro lens optics technology. The result is a feature that can be easily recognised by the general public with stunning colour and shape changing effects.
coverno is the cooperation with the Institute for Industrial Information Technology (inIT) of the Ostwestfalen-Lippe (OWL) University to develop intelligent banknotes with new ways of machine authentication, based on the inherent characteristics of intaglio. The first fruit of this cooperation is the Sound of Intaglio feature for cash recyclers. There are no additives or taggants, no special sensors, the method simply analyses the 2D images of the intaglio print and, as such, is much more cost-effective than other level 2 features.

What do you see as the key trends in banknote production at the moment?
TH: A definite trend is that, whereas in the past everything at the printworks was about capacity, now it's about quality and productivity. And reducing costs by savings on consumables, raw materials, inks and waste.
Another is in the demand for new security features. For us, cost reduction and new features go hand in hand – new technologies reduce costs, enabling printers to focus on more complex jobs, which in turn bring new opportunities. For example, the Super Simultan with the automatic plate clamping system, by achieving precision in the press in the first shot without adjusting the register, allows us to do extremely high precision registration features like the SUSI Flip™, which was recently introduced to the market on the new Solomon Islands $5.
EB: We are also seeing a decline in skilled printers. Due to increased automation, machines typically need only two operators now, compared with five or so in the past. While that is good for productivity and cost, it can also mean difficulties in obtaining the expertise that is still critical to production operations.
A good example is in maintenance. If we consider that 2,200 machines have been sold in the last few decades, and some half of those are still operational, then there is an obvious and ongoing requirement to be able to maintain these which increasingly cannot be met by printworks themselves. This is one of the reasons our services business is growing.
We see something similar in central banks, where staff increasingly rotate through different departments, so that the necessary skills acquired in the cash department aren't being retained. We are helping to fill the gap, particularly in our design and consultancy services.

How much of the value of a banknote should lie in the printworks compared with the substrate and components?
TH: There has been a trend towards applied features – either by the substrate manufacturer or in the printworks. Obviously as suppliers of printing equipment, we prefer that the value lies with the printworks. We do provide application equipment – for example, the OptiNota for foil application and windows, and the NotaScreen for SPARK. But over and above that, there are so many security features that can be generated as part of the intaglio and offset processes themselves which are very cost-effective. This is why a sizable part of our R&D and product development is focused on this area.

Polymer banknote and hybrid substrates are in greater demand than ever before. One of their characteristics is longevity. In your opinion will this result in a long-term decline in the demand for banknotes?
EB: The move towards more durable substrates is not just a means to increase their lifespan for the sake of it. There is also a move towards, and there needs to be a greater focus on, clean note policies – particularly in light of the current pandemic. So it's not just a case of banknotes lasting longer, it's also a case of the same lifespan of banknotes, but better quality.


Over the last 10 years we have seen the closure of a number of state-owned banknote printing works. Do you see this as a developing trend?EB:
The decline of state printers in Europe is not so much a trend, but inevitable given over-capacity. Annual volumes for the euro, the production of which dominates printing in Europe, is around 6 billion notes a year. In reality, this could be met by just two printers. So the closure of European printworks is simply a reflection of that and a necessary adjustment. But this isn't being seen elsewhere in the world, where there is still huge demand and where printers are upgrading, increasing capacity and even building new printworks. Egypt, Mexico, Taiwan and Vietnam are just a few examples. And of course, in Europe, the remaining printers are still upgrading to meet the demands of modern banknotes – whether for the euro or other currencies.
What have you done/are you doing to address the issues of pollution and climate change?TH:
This is a very important area and we have done a lot of work. Some examples include wiping solution recovery, the replacement of chromium with PVD in electro plating, reducing the power consumption of our equipment. We continue to look at processes and solutions to reducing the environmental impact of banknote production across the board.
Turning now to the current situation, ie. COVID-19, what have been the main challenges to your business and to your customers?TH:
The main challenge has been to continue supporting our customers at a time when, despite what everyone says about cash declining, demand is greater than ever and printers are having to meet this at the same time as dealing with reduced shifts, absences, different working patterns and all the problems associated with the lockdowns that have been taking place around the world.
A whilst the number of orders is increasing, these are short-term orders for low volumes, and the ability to react to short delivery times is challenging the printers. It's becoming more of a just-in-time production scenario, but printers don't have any more time to make the presses ready, and there's also a requirement for less waste, so they are under pressure from all sides.
EB:
Part of the increase in orders is to build stocks, which had been run down in many central banks. And this isn't just as a contingency, or buffer, but as part of clean note policies, to which central banks are certainly going to have to pay more attention in order to address public fears and misperceptions surrounding banknotes.

Do you see opportunities for doing things better, and differently, as a result of the pandemic?
EB: I think a crisis is always an opportunity. In our case, the most obvious example of this is the way we have adapted our services and developed tools so that we can continue to provide customers support despite not being able to travel. We are supporting customers remotely where we can.
You published examples in your last issue of Currency News of a remotely guided repair operation, a project launch on a new site, a virtual inspection and a digitally assisted Factory Acceptance Test. We also have to use more people locally. Neither is straightforward, due to security restrictions in printworks. But whilst this new way of working is being undertaken out of necessity, there are advantages – not least in being quicker and more cost effective.
TH: Certainly our customers are more willing now to do things differently. The big threshold at the moment, as Eric said, is security concerns. Central bank security policies are rigid, but they are having to be more open, and if nothing else, this pandemic will show that the future lies in using VPN connections to open up the IT infrastructure in a way that doesn't compromise security, but that allows a range of services including preventative maintenance to be done in ways that would never have been contemplated before.

Remote servicing is just one part of the picture. You, fundamentally, make things, so what has been the impact on the manufacturing part of your business?
EB: We've never produced so many printing plates than in the last two months. We are working full time on plate production. This is mainly due to customers having been in the process of reorganising plate production, which has been delayed by COVID-19, so we have been able to step in to keep the supply going.
TH: Also, many customers are having to reduce their staff because they now have to work in separate teams and a big problem is that, if one member of your team becomes ill, then the whole team has to go into quarantine. This has reduced capacity and created bottlenecks – hence customers are coming to us asking if we can help out. We are in a similar position, ourselves, with machine assembly. We have had to separate the teams in order to fulfil social distance requirements. At the same time, we have prioritised all our orders and continue to ship machines and spare parts to our customers in line with our contracts.
EB: Overall, we have adapted very well to not being able to travel. Production continues, we are able to provide a number of services remotely, and the commercial side of business – such as negotiating and signing contracts – can also be done remotely. So whilst it's not business as usual in the normal sense, we are certainly managing to carry on as usual.
TH: Although I would add that, particular in negotiations and new orders, nothing beats sitting down with the customer face-to-face, reading the body language, looking them in the eye. And vice versa of course!

Looking at the bigger picture now, what will the 'new normal' mean for cash. There's a lot of talk in the press that 'this is the final death of cash'. What is your view on that?
EB: If you look at Europe, 10-15% of the cash is used in transactions, and it's used for savings also outside of Europe. The number of people who have never used cards before but are starting to use them now is peanuts. But we have to work on information awareness. Payment by cash is so easy that people simply don't think about it. It's intuitive and because it's so ingrained, people take it for granted. They will only think about it when it is no longer available, and that is something we must avoid at all costs.
There are also more recent misperceptions about banknotes being carriers of the virus which, despite the complete lack of evidence, still persist. And of course, there are all the arguments for cash in terms of choice, privacy, financial inclusion and so forth which most people don't even think about – again, because they are so used to cash just always being there. We have a lot of work to do to change perceptions, particularly as a result of the pandemic. That is why KBA-NotaSys is such a strong supporter of the International Currency Association (Ed: Eric is currently Vice Chairman). As the voice for cash, it is doing an invaluable job in putting the message to decision makers and, via its Cash Matters campaign, to the broader public, as to why cash is so important.

Any final thoughts or comments?
EB: We have learned a lot from this pandemic. We have reacted quickly to the new requirements of our customers and have come up with new and flexible solutions that will stand us in good stead for the future. So if this situation ever happens again, we are ready for it.
TH: We don't know what the future holds – for cash, for the climate, for crises such as the one we are going through. But it is in our hands as to how we shape it.
Reference: Mitchell, A. (2020, June). 'KBA-NotaSys - the Perfect Loop for Banknote Production Solutions'. Currency News, p. 8-10. And retrieved from https://currency-news.com/issue/covid-19-and-the-ups-and-downs-of-cash-demand/