For more than 38 years, he has put his heart into his various positions within the company. He has built excellent relationships with our customers and colleagues and has made himself known throughout our industry. He has been an important player in the transition of Giori to Koenig & Bauer. He managed to safeguard the heritage and traditions of our company while moving towards a more modern brand and integrating different cultures and sites.
Passionate about the world of banknotes and with vast knowledge in the field, he has been a mentor for some colleagues, passing on his enthusiasm and knowledge so that the new generation could take the lead.
As of January 1, 2022, Johannes will become a member of Orell Füssli Ltd. Board of Director and we wish him every success in his new role.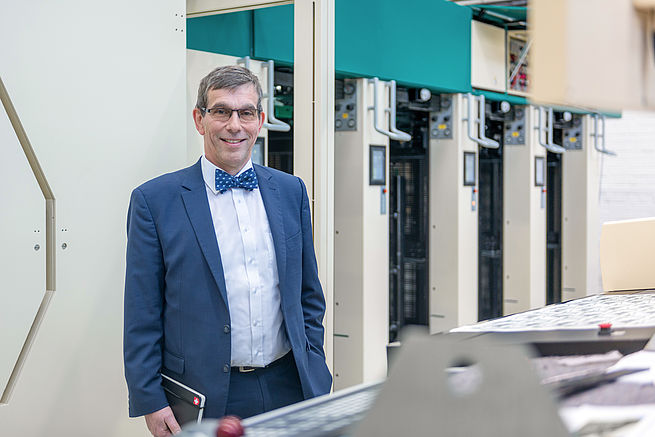 Read some testimonials from our industry:
Eric Boissonnas – CEO of Koenig & Bauer Banknote Solutions
"I would like to thank Johannes for all these years of close collaboration and for all his achievements within our company and for the future of the banknote. A great man, with great knowledge and a great passion for his work that we will not forget. His personality and his good-natured character will definitely leave a mark on all of us."

Aurélie Berthon, Head of Product Management & Innovation at Koenig & Bauer Banknote Solutions
"He has been an important pillar in our company and in the Koenig & Bauer Group and now leaves us a great legacy. It was an honour to have had the opportunity to learn from him, as he is an expert in banknote printing. Johannes always shared his knowledge and passions with his team and colleagues with enthusiasm and authenticity."

Michael Kasch, Managing Director of Orell Füssli Security Printing
"Johannes, appreciated and acknowledged by his large global network, has shared his enthusiasm and dedication for the industry since the very begin-ning. For myself, Johannes is a long-term industry fellow sharing the same passion for the world of banknotes and ID documents. Johannes has always been willing to share his excellent technical knowledge and constantly pushed the industry forward – never forgetting a touch of humor. With appreciation, we welcome Johannes to be a member of Orell Füssli Ltd.'s Board of Directors as of January 2022. The Board will be complemented by a great expertise on particularities in the security industry."

Pamela Alba, Regional Sales Director at Crane Currency International
"At conferences, he always drew in a large crowd and was always able to hold relevant presentations. He possesses that rare talent of making a potentially dry subject amusing but more importantly he made the content accessible to everyone of varying technical knowledge. Best of all he was always available for conversation and heated debates, although I never once saw him lose his cool! But let's be honest- who else could rock those colorful bowties with such panache? Without doubt he brightened up this industry and we will miss this great personality."